Can't-Miss Community Management: 7 Brands Doing it Right
When community management is done right, it means huge wins for brands. Case in point: Adidas' viral Valentine's community management efforts. So, who are the thought leaders when it comes to managing their communities and generating content that customers connect with? Let's take a look at the big players. Think of Twitter as the front line of this new kind of customer care. More immediate and accountable than call centers, Twitter is the customer service platform of today. These are the brands taking their community management to the next level.
Glossier (@Glossier)
Newcomer beauty brand Glossier is a thought-leader when it comes to harnessing the power of its social community. Not only was its latest hit product, cleansing jelly, crowdsourced, but it also tapped into its community for content. By borrowing content from the Glossier community, it looks and speaks like its community does – making Glossier instantly and organically relatable.
This content was borrowed from one of Glossier's community members. The beauty brand RT'd the picture, which delighted the OP (original poster) and encouraged more user-generated, high-quality content. Glossier recognized the authentic aesthetic of its customers, and therefore, the brand itself. Wouldn't you heart this pic?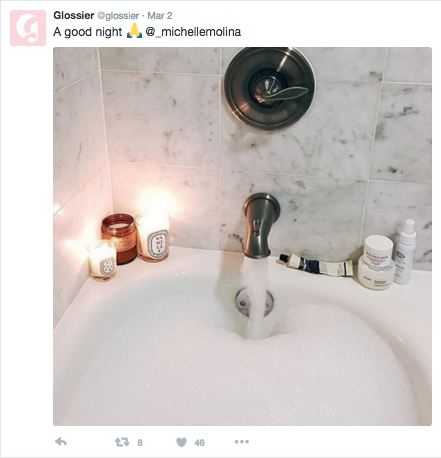 This Glossier customer interaction is a great example of community management turning a negative customer experience into a positive one. The customer went from being peeved to feeling heard. A key aspect of this interaction was that the rep signed her name. The customer knew it was a person (not a robot). Because no one wants to talk to a bot.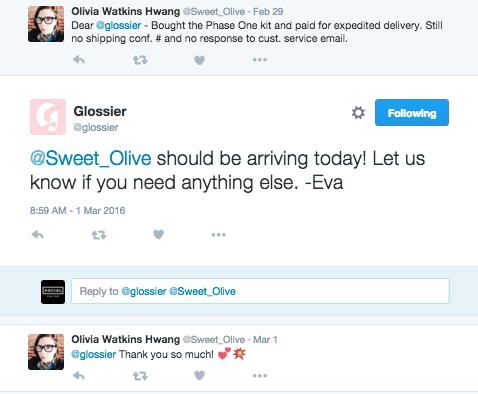 Taco Bell (@tacobell)
When it comes to Twitter, Taco Bell has two accounts, @TacoBell and @TacoBellTeam. That's how dedicated this brand is to Twitter acting as its point place for customer service. Taco Bell's online community is arguably the most diehard of them all. The brand has cultivated a silly and irreverent voice, while still taking its customers' concerns seriously.
See what we mean? Die hard fans. And Taco Bell encourages this kind of brand love using its community moderation. Taco Bell's Twitter is just a whirl of emotion, if you ask us.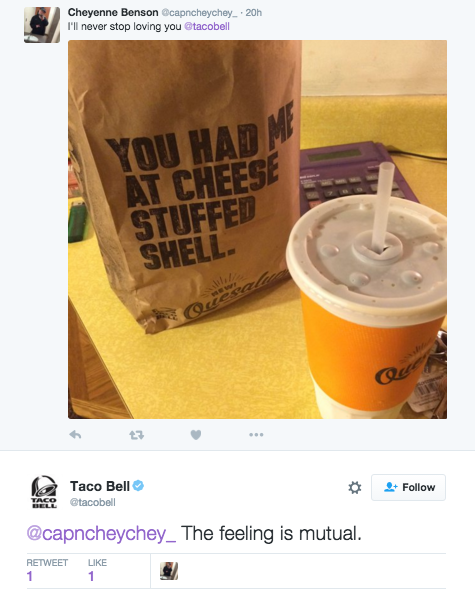 This kind of tongue-in-cheek humor is the driving force behind Taco Bell's community moderation efforts. It encourages its users to share these moments by RT'ing them. This benefits the brand two-fold: Taco Bell gets low investment, high-quality content; and the community feels authentically connected to the content they see, and are therefore more likely to engage with it.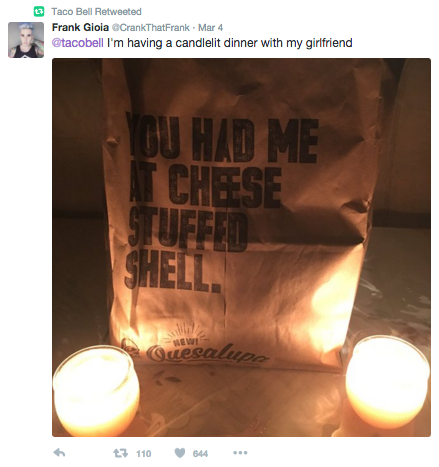 Netflix (@Netflix and @Netflixhelps)
Netflix really (like really) understands its customers, and it demonstrates that fact everyday on Twitter. The brand effectively addresses user issues without losing sight of its humor and lighthearted brand voice.
This is a case of taking an innocuous tweet (How many of us have posted this ourselves?) and, through the power of community moderation, taking the customer experience to the next level.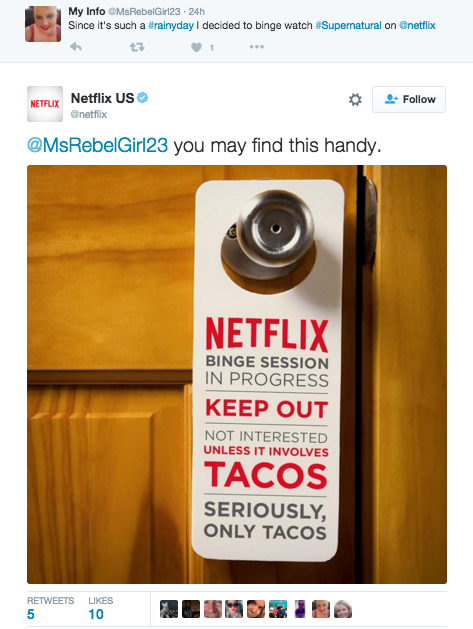 In this interaction, Netflix demonstrated that it understands not only its customers, but also its customers' senses of humor. Furthermore, the brand "meme-ifyed" its own product, creating temptingly shareable content. #meta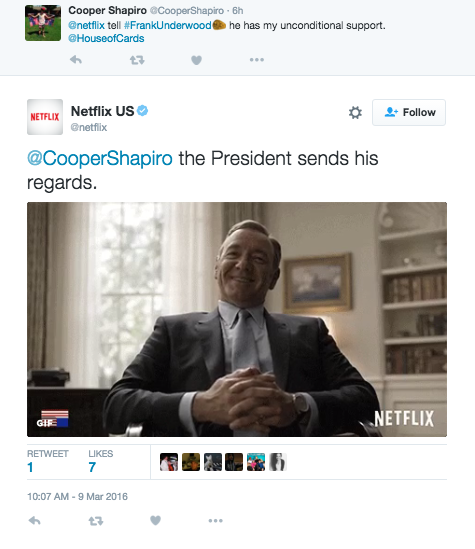 This is great customer service at work. The community manager was able to keep the tone light, while addressing a serious issue, and ultimately resolving it for the customer in a positive way. Sam can finally be happy again.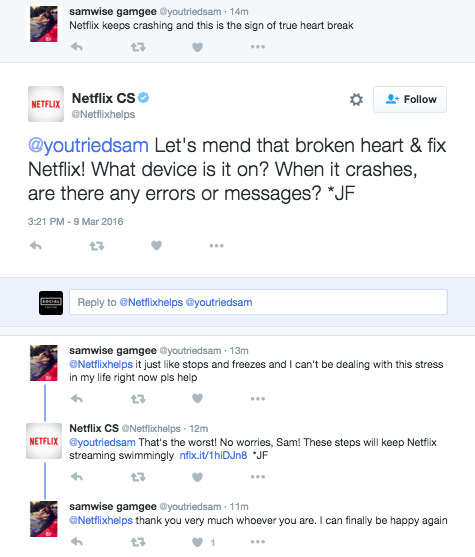 JetBlue Airways (@JetBlue)
Traveling can be stressful, and JetBlue knows that. On Twitter, JetBlue genuinely works to solve its customers' sometimes tricky issues. The community managers are the first line of customer care, and JetBlue treats its customers with sincerity and concern – just how you'd like to be treated if something went wrong with your travel plans.
We love this example of JetBlue's community moderator defusing what could have been a tense situation. The "give" was minimal, and how much do you want to bet that the user was satisfied with this timely interaction?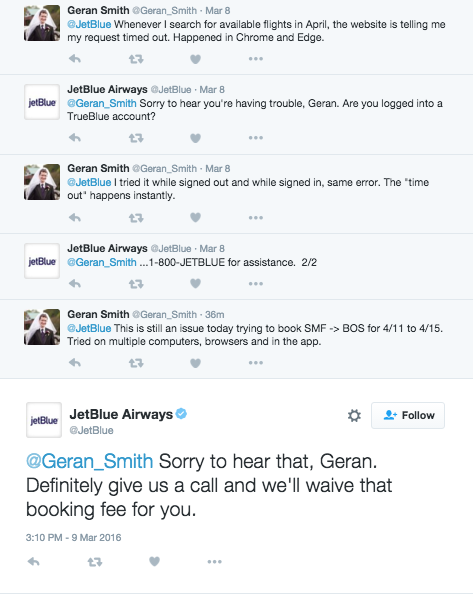 While this wasn't direct customer care, this is a great example of letting the community dictate content. #DressUpYourPet day was trending on Twitter, and JetBlue showed that it is part of the larger Twitter community's conversation without departing from its brand voice. (Get it? Departing?)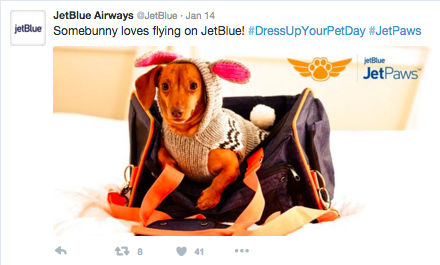 Bissell (@BISSELLClean)
We love that a vacuum company is winning community moderation on Twitter. Who thought an online community would rally around its vacuum brand? Bissell shows that with the right online presence, almost any company can have a vibrant and engaged online community. Bissell's approach is two-fold: Engaging with the real-life topics that vacuum owners care about, and not making everything "all vacuum all the time."
Who doesn't love an adorable puppy? That's exactly what Bissell was counting on with this post. Bissell encouraged customers to interact with its content and brought the experience full circle by responding to pictures of its followers' pets.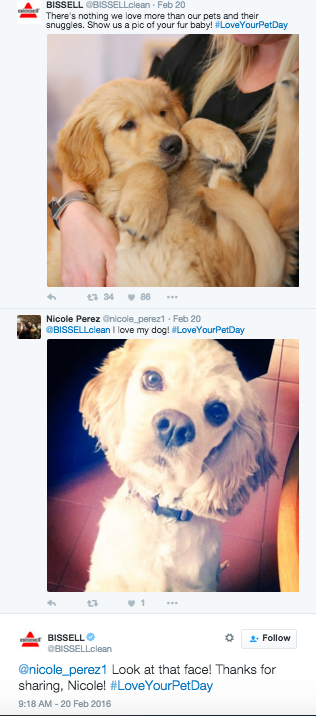 We love this example of excellent community moderation. By mirroring the tone of its customer and showing that it's "in" on Todd's joke, we're betting Bissell earned itself a customer for life, with minimal input. All it took was thoughtful moderation.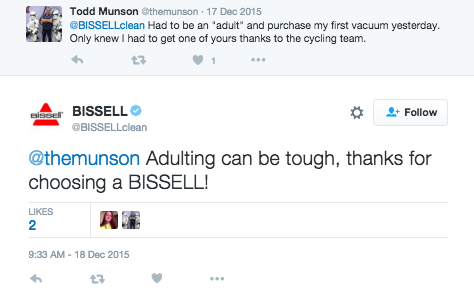 Urban Outfitters (@UrbanOutfitters)
Urban Outfitters is a master of moderation for its specific community. Urban Outfitters gets its customers' pop culture references, returns the snark, and generally upholds its "too cool for school" brand persona across all community moderation efforts – all while still making its customers feel like they are part of the cool clique.
We have to admit, this particular reference took some googling. Did you know these were lyrics to a My Chemical Romance song? Well, Urban Outfitter's CM did, and screamed them at the customer. This all-caps response showed Lily that Urban Outfitters was in on the joke, spoke her same language, and is now part of her circle. Because after all, isn't that ultimately what most shoppers of this brand are looking for? A place to belong.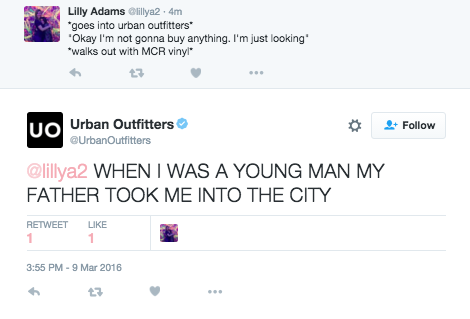 Four words and a lot of emojis took this customer interaction full circle. Notice that the OP didn't even include an Urban Outfitters tag. The community manager is so on top of it that he or she caught this tweet. Imagine how surprised and delighted the follower must have been to get this response. Where do you think she'll go to get her next pair of sunglasses?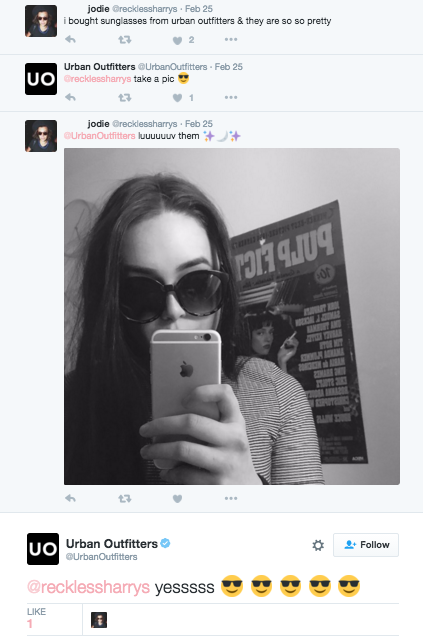 GoPro (@GoPro)
GoPro does a fantastic job extending its overall brand strategy to its community moderation efforts. GoPro uses a casual, familiar, and energetic voice, all while encouraging its community to stay active. (And capturing them with a GoPro, natch.)
This is a great example of a brand harnessing user-generated content to its advantage. The copy aligns with the supportive, positive sentiment that drives GoPro's community moderation efforts. By supporting this user's content, GoPro is ultimately promoting its product.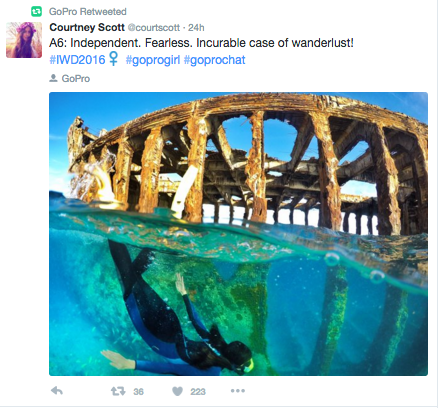 We love this example of community moderation done right. Here, GoPro involved itself in the daily life of its community. By doing this, it not only united its community, but transcended the distance between brand and follower. #GoPredators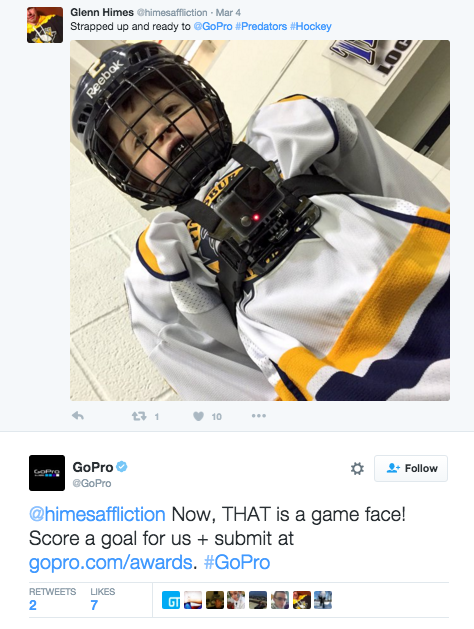 Want to take your community management up a notch? Our team of experts can help. Get in touch today!