How to Choose the Best Social Media Platforms for Your Business
In today's fast-paced, ever-changing, noisy digital landscape, it's tempting for marketers to develop a social media presence on every social media platform, including new and heavily-hyped platforms like Snapchat. However, with limited time and resources, it's imperative that companies be thoughtful about where they spend their time — and money — online. At Social Factor, we believe that identifying the right social platforms for your business starts with determining where your target audiences engage the most on social media.
Consider Your Target Audience
Before you seek out your target audiences on social media, be sure you understand them intricately. This means that you must define the age range, gender, ethnicity, income level, marital status, interests and behaviors of your prospective customers. Not only will this data help you determine where to focus on social media, but it will serve you well as you target your social media advertisements in the future. Inc. shares a list of helpful steps when identifying your target audience, including looking at competitor audiences, choosing specific demographics and psychographics, and testing and evaluating.
Choose B2C vs B2B
One helpful step in deciding where to develop a social media presence is to consider platforms best suited for business-to-consumer companies versus business-to-business companies. As a rule of thumb, Facebook is a great platform for businesses to reach consumers, while networks like LinkedIn, Twitter and SlideShare are excellent places for business-to-business marketing, thought leadership and recruiting. Pinterest is particularly effective for retail businesses in industries like fashion, beauty, home decor and food. And finally, Instagram and Snapchat lend themselves to businesses that have a visual story to tell, whether through images of their products or the lifestyle that the brand promotes.
There are exceptions to these rules, however. Let's take a closer look at the demographics and unique features of key social platforms, so you can consider which is most appropriate for your business.
Social Platform Demographics
72 percent of online adults use Facebook.
31 percent of online adults use Pinterest.
28 percent of online adults use Instagram.
25 percent of online adults use LinkedIn.
23 percent of online adults use Twitter.
18 percent of online adults use Snapchat.
Via Pew Research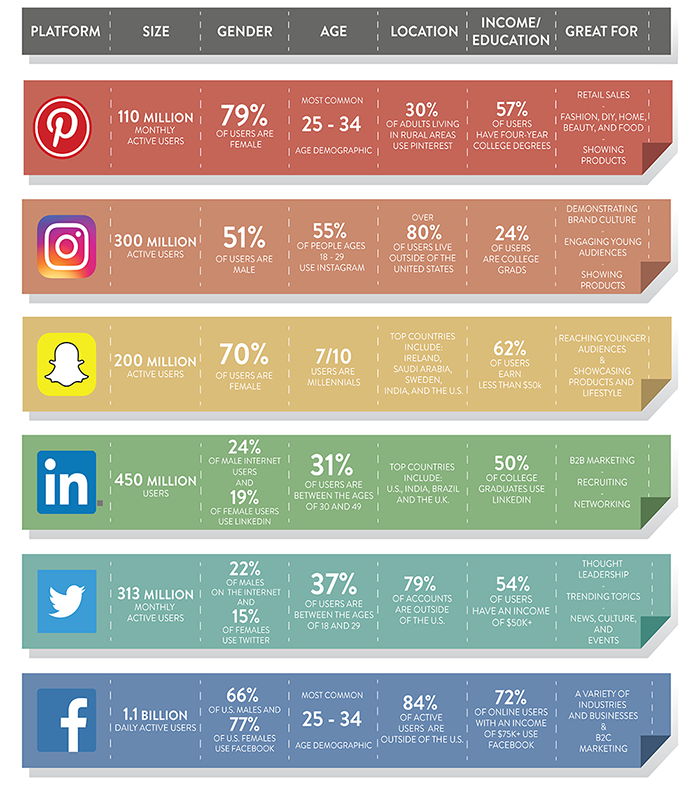 Measure and Optimize
Once you decide where to invest your time and resources on social media, be sure to test a variety of content types on each platform and regularly measure your performance. If one or more platforms seem to be growing significantly or demonstrating deeper engagement and return on investment, consider putting further focus there, and potentially removing your presence on poorly performing channels.
Helpful metrics to track include total community size, percent growth over time, engagements such as likes, comments and shares, and, perhaps most importantly, website clicks, conversions and revenue attributed to social media.
We hope that these tips and demographic insights will be helpful to you as you decide where to establish or grow your social media presence. Now, it's time to experiment!
Looking for support in developing your social media strategy and presence? Contact us today.
Sources:
https://newsroom.fb.com/company-info/
http://sproutsocial.com/insights/new-social-media-demographics/
https://zephoria.com/top-15-valuable-facebook-statistics/
https://blog.hootsuite.com/facebook-demographics/
http://www.pewinternet.org/2015/08/19/the-demographics-of-social-media-users/
http://www.jeffbullas.com/2015/02/26/10-amazing-facts-about-pinterest-marketing-that-will-surprise-you/
https://blog.hootsuite.com/twitter-demographics/
http://mediakix.com/2016/06/snapchat-demographics-infographic-statistics/#gs.LfULHsI
https://blog.hootsuite.com/snapchat-demographics/
http://www.businessinsider.com/update-a-breakdown-of-the-demographics-for-each-of-the-different-social-networks-2015-6