Social media lessons from Bill Gates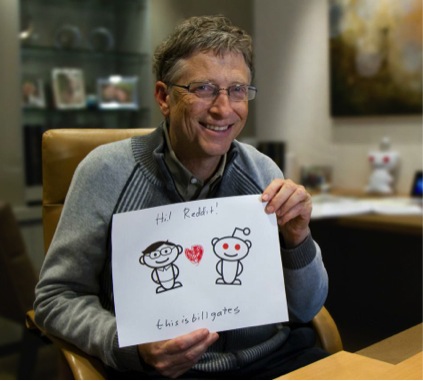 Celebrities and public figures are constantly trying to find new and innovative ways to reach their fan base. In today's socially networked world, people expect to have a direct or semi-direct line to the biggest celebrities. Reddit's Ask Me Anything (AMA) series has had a presence for quite some time, but has been gaining some steam recently. How does it work? Reddit users create a thread inviting users to ask them any question. Many notable celebrities have taken this approach. Snoop Dogg (or Snoop Lion or Snoopzilla) and Jerry Seinfeld have answered some candid questions; even our President, Barack Obama, did an AMA.
As much as we are tempted to say that celebrities hosting AMA's on Reddit is a phenomenon, the reason behind it definitely isn't. Consumers, customers, and fans now expect their favorite brands and celebrities to be in constant contact with them. This behind-the-scenes look gives the average fan a feeling of connectedness. There is a need to focus on a coherent image across all forms of media. A consistent voice is not just important for Madonna (who had a great AMA) but it is important for you and your company.
A consistent brand promotes trust in your company, and in turn allows you to develop relationships with your audience. Relationships lead to lifelong advocates for your brand. Forming a cohesive representation of your brand across all platforms has many benefits, and knowing your audience is a key element. Deeply understand your audience's needs, goals, and how they consume your brand to develop your online strategy.
Sometimes this can be intimidating; strategically marketing yourself in the ever-changing environment of social media can be a headache. Sometimes all it takes is a little planning, insight, and accuracy. Here at Social Factor, we understand the power of social media and how to best harness it for you and your brand.
Interested in finding out more? Let us know.