The idea of a chatbot managing customer care might seem far-fetched, but it's already as integrated into our daily lives as cell phones and pizza. Chatbots are interactive software platforms found in apps, email, SMS, messaging platforms, and live chat. Everytime you receive a notification that your pharmacy refill is due, you're interacting with a chatbot. When you send a message to Lyft for a car, that's a chatbot. How about Amazon Alexa? It's a very sophisticated chatbot, but still a chatbot.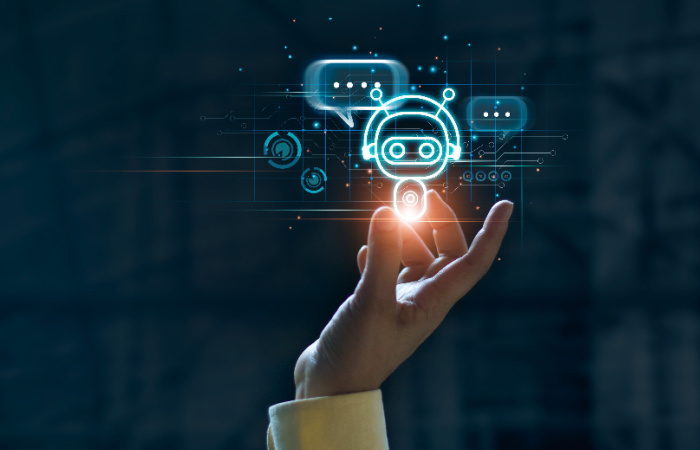 According to a survey by Oracle, "78% of brands say they have already implemented or are planning to implement artificial intelligence and virtual reality by 2020 to better serve customers." So then the question isn't should your business use chatbots, but when will your business start using this technology? Here are four ways every company can benefit from chatbots:
1. Customer retention – Forrester says that 53% of U.S. online adults are likely to abandon their online purchases if they can't find quick answers to their questions. If a business doesn't have 24/7 customer service availability, there's a risk of losing money. Chatbots can be programed to answer customers' most frequently asked questions in a quick, efficient manner, at any time. That's not to say a customer will never want to speak to a live agent, but when a simple question is presented, a quick answer is preferred.
2. Drive sales – Chatbots are able to guide your customers through each stage of the buying process from awareness, to evaluation, and then conversion. When a customer visits your website, chatbots can offer a more personalized approach by evaluating and analyzing data from that customer's previous visits, and then base suggestions off of that data. Pizza Hut is a good example. By using chatbots on Twitter, Facebook, and through Amazon Alexa, customers are given suggestions based on previous purchases, the opportunity to reorder from previous orders, or can choose from popular menu items. Pizza Hut's delivery and carry-out information is available without the customer having to do any work.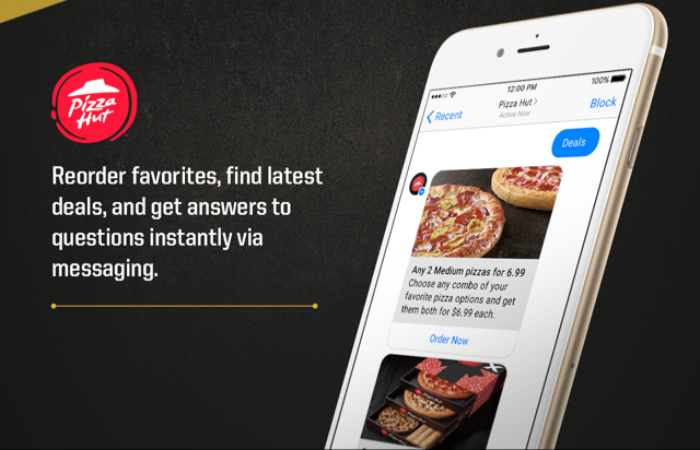 3. Users are tired of apps – Getting users to try a new app is a tough sell. In fact, the majority of U.S. consumers download zero apps per month, according to comScore. So, while it might seem like a good idea to invest in an app for additional user interface, a chatbot can meet those same needs without any additional steps from the consumer. If you're still not convinced, Statista reported that nearly 1 in 4 mobile apps is deleted after one use. Meanwhile, Juniper Research says that retail sales from chatbot-based interactions are forecasted to nearly double every year to $112 billion by 2023 from $7.3 billion this year.
4. Cost-effective – Chatbots begin at a price point around $3,000, and increase depending on the business requirements and security components. However, according to a research study conducted by MIT, employing someone with a salary of $50,000 per year actually costs the company between $62,500 to $70,000, with additional expenses like healthcare and equipment. We're not suggesting that employees are obsolete. But, if a task can be managed by a chatbot instead of a human, companies will save money. This enables current and new employees' tasks to be optimized for higher-value projects.
We know that chatbots still have room to grow. Fifty-eight percent of users don't think chatbots are as effective as they could be, with complaints ranging from misunderstood requests to difficulty understanding accents. As we see a rise in intelligent chatbots that learn from each conversation (like cleverbot) over simple, scripted chatbots. We believe that bots might be the best thing to happen to marketing in a long, long time. If you're still not quite sure about how chatbots can benefit your company, Social Factor is here to help!