From Social Factor webinar "Transcend the Transaction with Jay Baer – Using Digital Content to Drive Year-Round Engagement"
When creating a marketing plan around an event for your brand, digital marketers are familiar with the event lead-up, plans for marketing during the event, and the follow-up emails. But what if we as marketers think of an event (or even marketing for your brand as a whole) as a 365-day strategy?
Jay Baer, best-selling author of six books including Talk Triggers: The Complete Guide to Creating Customers with Word of Mouth, participated in a webinar with Social Factor and discussed how to make any event last all year long for your brand, as opposed to just one or two months. Baer says to think of your event as an advertisement for what's possible with your brand. "What if you thought of your brand as a key source of information, inspiration and support that just happens to have an event?"
So, how do we plan this way? Baer gives some tried and true strategies.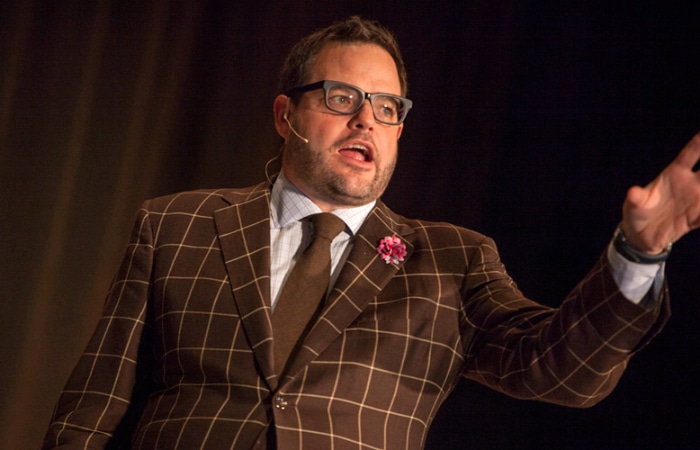 Get attention
The key with this 365-day way of thinking and planning for an event is to first figure out how to keep your audience's attention. In these days of constant phone interaction when people pick up their mobile devices more than 76 times a day, attention can be hard to grab with our customers/attendees. Baer says that in order to grab their attention (and get the attention of new customers/attendees) we must subscribe to and facilitate the three pillars of the 365-day event philosophy: a source of information, a facilitator of community and provider of service. Each of these pillars maps to three different time periods – before, during and after the event, with a goal of touching (or reaching out to) your attendees 50 times in a year.
Make a "playbook"
Baer went on to talk about different ways each pillar would work within each time horizon for the event you're producing. For this strategy, you need a "playbook" of sorts to document your plan of attack to keep your customers, while also saving some money in the process. Even if it starts within this simple nine-grid box, you can still have an idea of how to tactically move forward. Let's work with pre and post event on some examples.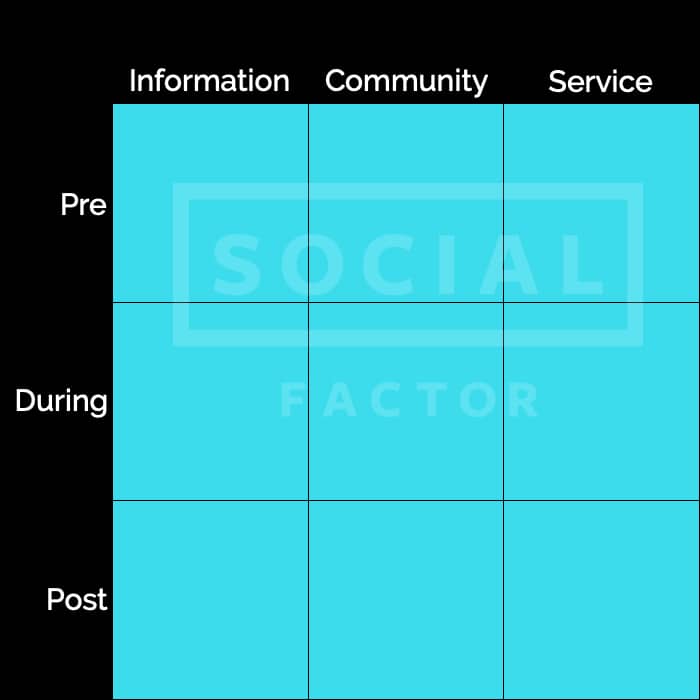 Information, pre-event
You play the role of information provider to the attendees and prospective attendees at your event, Baer says, from when they register until long after the event is over. Create a podcast with the speakers at your event, send weekly emails to attendees and prospects, or create a restaurant and "things to do" brochure for your audience. Make them feel "in the know" when it comes to your event, long before it starts.
Community, pre-event
You want your audience to feel like they are a part of the community of event attendees long before your event starts. Why not create an active attendee Facebook group and invite attendees once they've paid for the event? Give them assignments and let them interact and react to assignments, Baer says. Don't collect people just to collect people, but give them something to talk about within that group. This will add to the excitement leading up to the event.
Service, pre-event
Most people want to figure out event information out themselves on a website rather than call or email support to ask questions, so you need to create the ultimate event FAQ. A Facebook Live Q&A session is a great idea to answer any unanswered event questions. Then, put the questions directly on the FAQ when the Live chat is over. With this, Baer says, you are now engaging with people possibly an entire year before the event starts.
Information, post-event
After the event, go back to the weekly emails with summaries of keynote speakers, research, best practices, or anything else significant from the event. Baer says to "keep milking the cow" and atomize your content over the next few months. Maybe start with a video of the keynote, then a Facebook video of the keynote, blog twice about the keynote, take live tweets from the event and make a blog post, create shareable quotes with graphics for social, and more. Baer says to use his company's 1X8 rule – use one piece of good content from your event at least eight different avenues post event.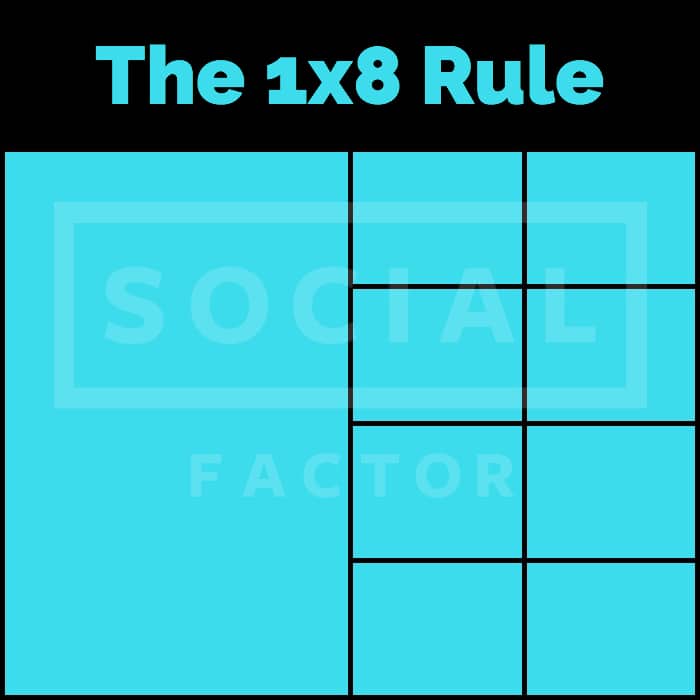 Community, post-events 
Your attendees still want to feel a part of your event, even though it has already passed. Baer says to create weekly social assignment on your channels to get people talking, and to try weekly challenges, polls, and other fun ideas to keep momentum up.
Service, post-event
Be proactive in your service to customers or attendees. Get information to people about your brand when they need it, and do it quickly, says Baer. Whether is social listening or other types of follow up, let your event attendees know that you are here to serve them for the long haul.
With a little pre-planning, your event can give your brand an entire year's worth of content. As digital marketers, don't underestimate the power of message repetition on different digital channels for your next event.
Need help planning your event over the next year? Social Factor would love to chat with you about your customer retention and digital marketing goals. Contact us today!
Jay Baer, CSP, CPAE has spent 25 years in digital marketing and customer experience, consulting for more than 700 companies during that period, including 34 of the FORTUNE 500. His current firm – Convince & Convert – provides word of mouth, digital marketing, and customer experience advice and counsel to some of the world's most important brands.
His new book, Talk Triggers, is the complete guide to creating customers using strategic, operational differentiators that compel word of mouth. In the best companies, the customers do the marketing. Talk Triggers is the instruction manual for making businesses grow with customer conversation.
He also has a weekly Talk Triggers show about word of mouth, featured on Youtube, and as a podcast.
Befitting his roots in Arizona, Jay is a tequila collector and maintains his allegiance to the teams of his alma mater, the University of Arizona.
Jay lives in the idyllic college town of Bloomington, Indiana with his wife and children, and travels from Indianapolis to speaking opportunities world-wide.