"An unintentional life accepts everything and does nothing.
An intentional life embraces only the things that will add to the mission of significance."
-John C. Maxwell
~
To say that Facebook's changes have affected marketers to a new level in recent years would be an understatement. However, it certainly doesn't mean that Facebook is dead! Despite the Cambridge Analytica scandal and a 66 percent drop in the number of users who believe the company is committed to privacy, Facebook added 48 million daily users globally during the first three months of 2018. Your target audience is still out there.
On average, people spend about 35 minutes of their day on Facebook. We wanted to find out what exactly they're looking for and engaging with on the platform. Between the aforementioned scandal and Facebook prioritizing content from connections over Pages, shifts in news feed content and brand sharing is expected. To learn more about Facebook usage, we promoted a poll asking users about their primary use of Facebook and to choose one of four answers: entertainment (following news and updates from celebrities, musicians, etc.), connections (keeping up with family and friends), information (news updates), and brand updates (staying up-to-date with companies you like). Here are the results of the 4,218 votes we received: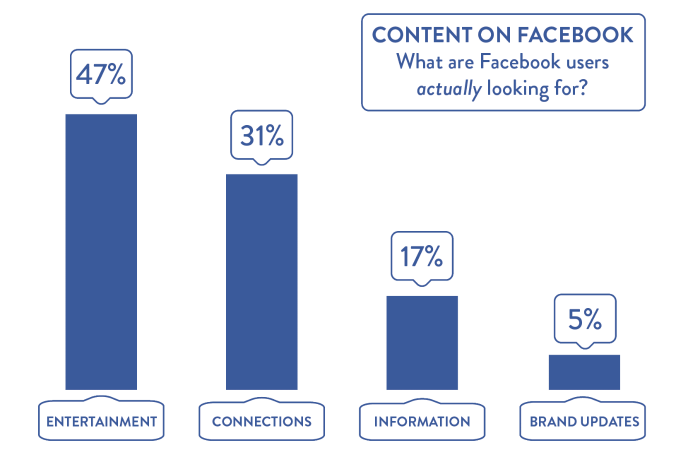 If you're a brand, don't be scared! The data we received from our poll certainly isn't the end all be all, but it does help us make more informed decisions about the type of content we create for brands we work with. So, what are the takeaways?
Less people are on Facebook to connect with brands, so each post that a brand shares needs to be even more intentional than before.
–Truly consider each post that is created and what it means for the people who see it. Since each post from a Facebook Page now has a lower reach than before, it needs to make an impact.
–Reconsider a high frequency posting cadence, and share less content that's more meaningful.
–Also, take a look back at what kind of content your audience responds to the most. For example, if your audience enjoys entertaining, sharable content (and it makes sense for your brand), find new ways of writing fun content that helps convert or inform your audience.
–Think about what kind of content can spark a conversation or create a deeper connection with your audience. The more they engage with your Page's content, the more they'll see it.
–Now, more than ever before, it's important to revisit your posting and content strategies to make sure they align with what your target audience benefits from the most. Every post counts!
If you need help analyzing your past data to find what works the best for your target audience, contact us to help you develop a strategy.