A lot can happen in 280 characters.
Social media might seem like a simple medium to manage, but the slightest misstep can lead to disastrous results. In April 2019, a since-deleted #MotivationMonday tweet from Chase sparked instant backlash and accusations of "poor-shaming." The tweet suggested customers wouldn't have as much difficulty with their finances if they just "made coffee at home" and stopped taking cabs. Critics were quick to point out that Chase received part of the $12 billion government bailout paid for by taxpayers, which included the same customers that the bank seemed to be criticizing.
Chase's stock dropped almost 11 points in the month following the post, and didn't recover until three months later. It's impossible to say for sure the financial implications of the post for Chase, but the situation served as a clear warning sign to other companies: Be careful what you tweet.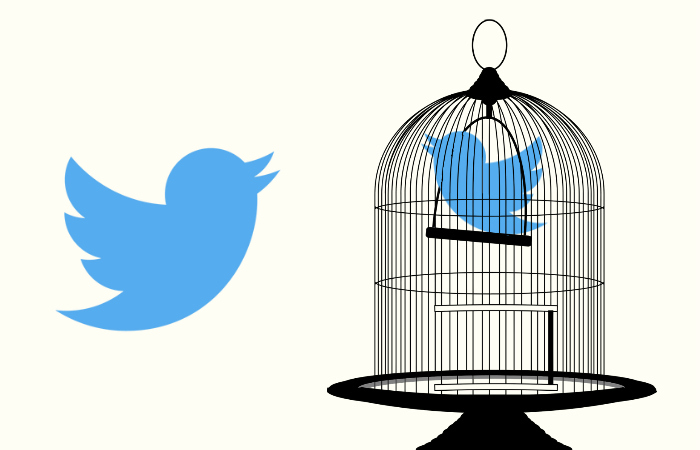 So what else can go wrong on social media? Check out this list of eight other missteps brands and brand ambassadors can (and have made), and how you can avoid them.
1. Posting racially insensitive images.
The situation:
Clothing brand H&M lost an important celebrity partnership with Grammy award-winning artist The Weeknd after posting a racially insensitive image. The Weeknd collaborated with H&M on multiple projects, but pulled all his support from the brand after the picture was posted.
What should have happened:
Simply put, don't post racist things. However, this situation underscores the importance of an approval process for social media content. There should have been multiple levels of pushback when the design was created. And it's critical for international brands to have a diverse, discerning and diligent group of people reviewing social media content before it is published. Additionally, in situations where an insensitive image does get posted, have a plan for crisis communication that apologizes and takes appropriate action with personnel.
2. Employees posting to the company account by mistake.
The situation:
After failing to switch from the company account to his personal account, an employee who ran the Chrysler Twitter account accidentally posted an obscene tweet that read, "I find it ironic that Detroit is known as the #motorcity and yet no one here knows how to (expletive) drive."
What should have happened:
For large corporations (and even for small ones), there's almost no reason to have employees logged into company and personal social media accounts in the same place. A social media management platform like Khoros, Sprinklr or Hootsuite would have ensured all professional tweets be sent from the platform, and entirely prevented this issue. Additionally, companies should have social media usage guidelines for employees who have access to the company accounts, which details how and when to access company social media accounts.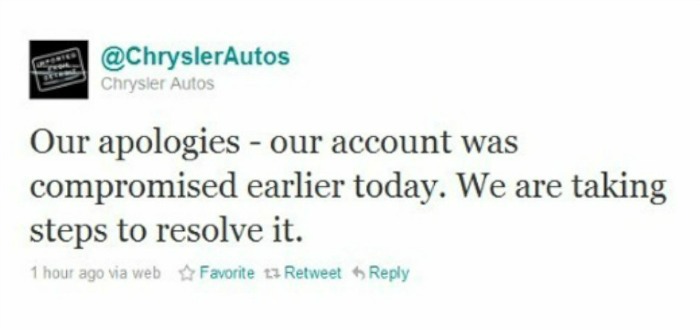 3. Not changing the password to company social media accounts before firing employees.
The situation:
In one day, the entertainment company HMV fired 60 employees, which prompted one of the most memorable and public Twitter meltdowns ever on social media. The company failed to change its Twitter password before news of the firings went out, and soon-to-be fired employees live-tweeted what was happening directly from the company's account.
What should have happened:
When anyone who has access to a brand's social media account leaves the company, all passwords for social media platforms that employee had access to should be changed. This is another reason to keep social media access contained to enterprise platforms where you can easily delete users from a central admin account. Regardless of how access is granted, it's paramount that brands know who has access to accounts and have processes in place to remove access when employees leave the company.
4. Posting the wrong link in content.
The situation:
ESPN Analyst Gerry Hamilton mistakenly tweeted out an obscene link in a post. Though it was quickly corrected, screenshots were taken before the correction could be made.
What should have happened:
This link was clearly posted by accident. Yet, it drives home the value of having a planned content calendar that enables posts to be reviewed multiple times. If ad hoc posts are necessary, a best practice is that all content (including links) should be double checked by more than one person.
5. Mistakenly retweeting a competitor.
The situation:
British Airways shared a post from rival Virgin Atlantic that advertised an impressive travel deal. Social media managers at Virgin Atlantic were quick to catch the faux pas and responded by tweeting, "Thanks British Airways! So kind of you to share! #onethingweagreeon #flyvirginatlantic."
What should have happened:
It's important to monitor competitors. But we would never recommend retweeting a competitor's deal or offer. Since this could have been caused by an accidental click by a social media manager, the brand should have used the opportunity to poke fun at themselves or capitalize on the situation. If you're in the limelight because of a slip up and the opportunity arises to change the narrative or right the wrong, take it. What if the airline had created a deal just for the day to beat Virgin Atlantic's deal, and responded by posting, "We just wanted our fans to do some comparison shopping." Game, set and match.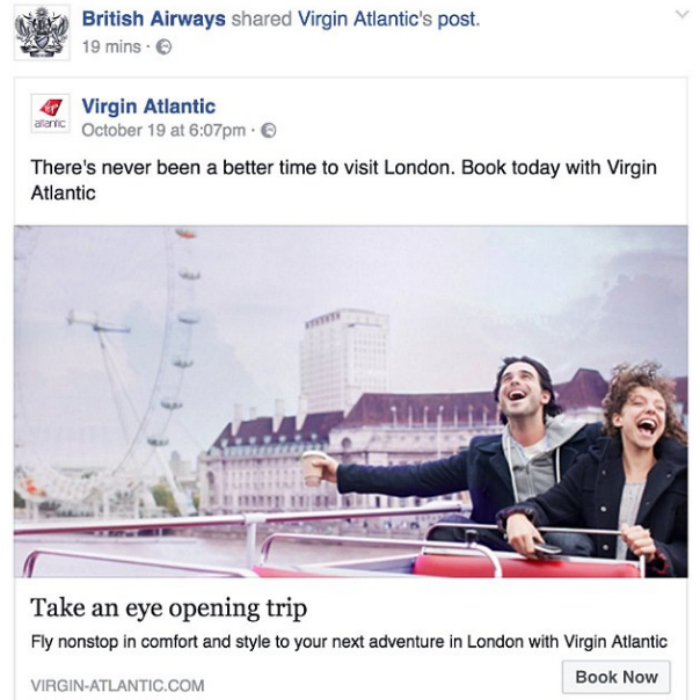 6. Not adjusting copy to account for real-time events.
The situation:
Adidas sponsored the 121st annual Boston Marathon, but failed to check its scheduled email funnel following a bombing attack on the race. A planned email with the header, "Congrats, you survived the Boston Marathon!" went out to all race participants on the Tuesday following the bombing. And Twitter users were quick to call the company out for the poor choice of wording.
What should have happened:
Scheduling content ahead of time is a common practice, but if a significant event takes place after the schedule has been set (whether the schedule be for emails or social media), all content should be reexamined. It never hurts to take another look to be sure that the tone and language is still appropriate.
7. Failing to investigate the meaning of trending hashtags.
The situation:
Much like Chase's #MondayMotivation snafu, when DiGiorno decided to take part in the trending hashtag #WhyIStayed, the frozen pizza company failed to investigate what the hashtag was about before responding, "You had pizza." The intent of the hashtag was to shed light on domestic violence and explore the difficulties many survivors face when trying to leave.
What should have happened:
Brands should always investigate the origins of a trending hashtag before joining the conversation. What may seem like an innocuous response on the surface may backfire in light of the situation that prompted the hashtag.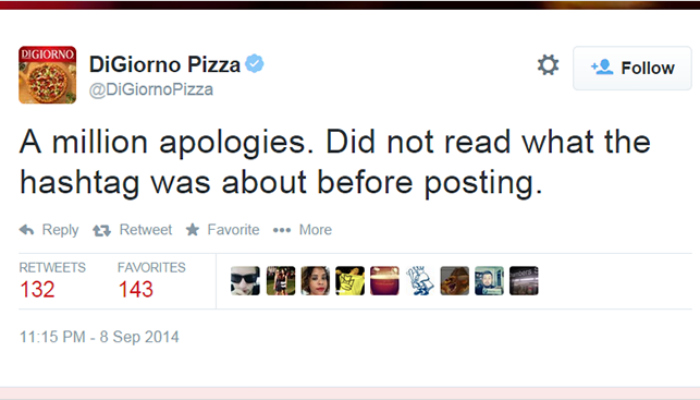 8. Lack of oversight in auto-retweeting content from hashtags.
The situation:
The New England Patriots ran a campaign called #1MillionPatriots to commemorate being the first NFL team to achieve one million fans on Twitter. Fans could tweet support of the team, and their posts were retweeted by a bot to bolster team spirit and celebrate the achievement. However, one "fan" that was retweeted had a username that included a racist word. And that username was overlooked when the team retweeted the comment. As expected, the posts was not overlooked by fans or the media.
What should have happened:
Automation helps campaigns to scale. But human oversight could have prevented this from happening. By using a tool like Tweetdeck, a team of moderators could have followed the hashtag, and quickly deleted any responses or usernames that didn't align with the brand image. Additionally, finding an automation platform with parameters on the types of usernames to include and exclude could have filtered out the user in the first place.
It's no secret that part of social media management is staying on top of the latest trends and online conversations. Unfortunately, when brands and brand ambassadors slip up the same hashtags and content that can create success, can also make a significant dent in stock prices. Staying away from no-win situations online is obvious for brands. But there are a number of mistakes that are preventable with the help of professional social media community manager. If your brand needs the support of social media management experts, contact Social Factor today.