Technological advances have completely changed the way companies interface with customers. While plenty of brick and mortar stores still exist, most brands also maintain a digital storefront. A number of companies, even restaurants, have opted out of physical locations altogether, and now sell exclusively online. With the 24-hour-a-day flow of e-commerce, customers expect help regardless of the time. But for many companies, hiring customer service to manage every hour of the day is cost-prohibitive. It's no wonder that 78% of brands have decided to either employ chatbots to fill the gaps, or will implement a chatbot by 2020. As such, brands need a distinctive voice online to set them apart, and the way chatbots are used needs to be equally distinctive. Here are four companies that are winning with chatbots.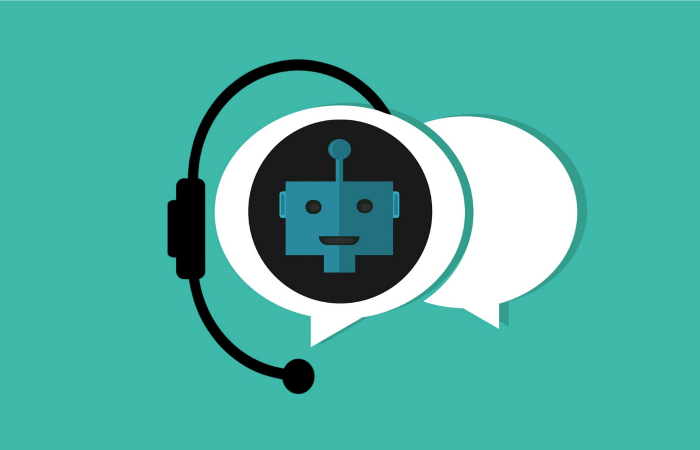 Casper
No matter how comfortable the mattress, sleepless nights are bound to happen. The "Insomnobot-3000" ("IB3000") is designed to keep the brand's customers company when they just can't sleep.
Availability: From 11 p.m. to 5 a.m., customers can text the "IB3000" and strike up a conversation about nearly anything.
Enjoyable: "It's kind of obsessed with pizza and is really on the fence about if it's too late to eat or it should just wait to eat waffles in the morning," says Casper VP Lindsay Kaplan.
Brings customers closer: At some point, we've all fallen in love with a brand. With "IB3000," Casper extends the conversation (literally) and elevates that brand-love experience to a whole new level.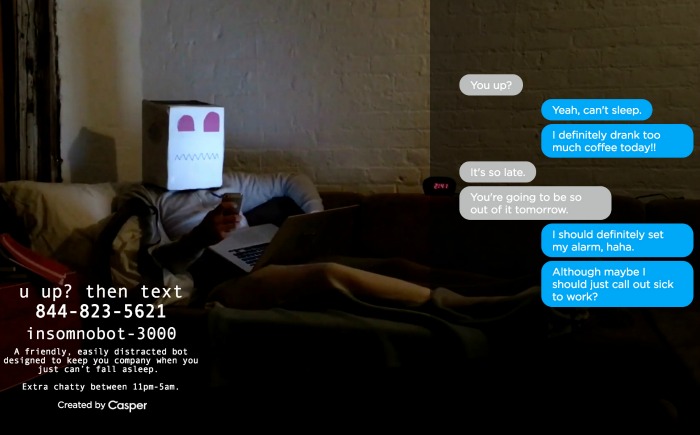 Madison Reed
Whether because of a break-up, a promotion, or just wanting to feel good; when a woman decides she wants to change the color of her hair, she doesn't want to wait. "Meet Madi" understands that.
Answers for urgency: It can take a month to set an appointment with a good stylist. "Meet Madi" is available at the touch of a button to answer help women decide the right color, and talk them out of the wrong one.
Engagement: When a user uploads a selfie, "Meet Madi" makes intuitive suggestions about what colors would look best based on the photo.
Suggestive selling: Because this bot is directing users toward new color options, it's also opening them up to suggested products sold by Madison Reed.

Hipmunk
There are almost as many travel companies as there are places to travel. "Hello Hipmunk" decided to separate itself from the pack by taking a more casual, conversational approach in helping users explore the wild blue yonder.
Intuitive and personalized: "Hello Hipmunk" accesses users' locations to determine where they're traveling from, and sends travel deals based on that information.
Useful: Instead of sitting around waiting while the bot locates and loads new deals, "Hello Hipmunk" suggests "HipTips" that give users more ways to leverage the app.
Conversational: Using phrases like, "Sweet! I love finding people the least agonizing flights," and "We'll hit you back with some great recommendations," "Hello Hipmunk" uses a friendly voice, and avoids the sometimes static, robotic feel often associated with chatbots.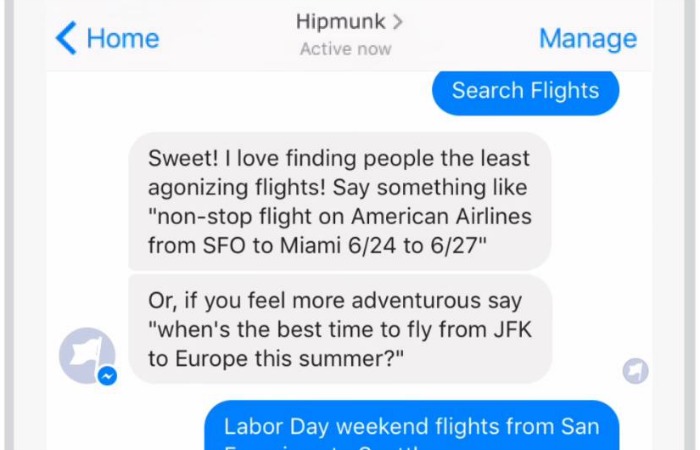 Duolingo
One of the biggest fears when learning a new language is to speak it out loud, according to Duolingo's Co-Founder and CEO Luis von Ahn.
Meets a need: Simply called "Bots," Duolingo's bot enables users to carry on conversations in whatever language they are currently learning, which helps to remove the fear of embarrassment.
Interactive and enjoyable: Duolingo's "Bots" are as responsive as they are enjoyable. Using cues from lesson-directed conversations, "Bots" will insert images, and even joke using level-appropriate language.
Reward system: Duolingo utilizes a point system to keep users engaged and coming back for more, and "Bots" employs that same system. Users who enjoy earning points in the app will be excited to learn that they will earn those same points through "Bots."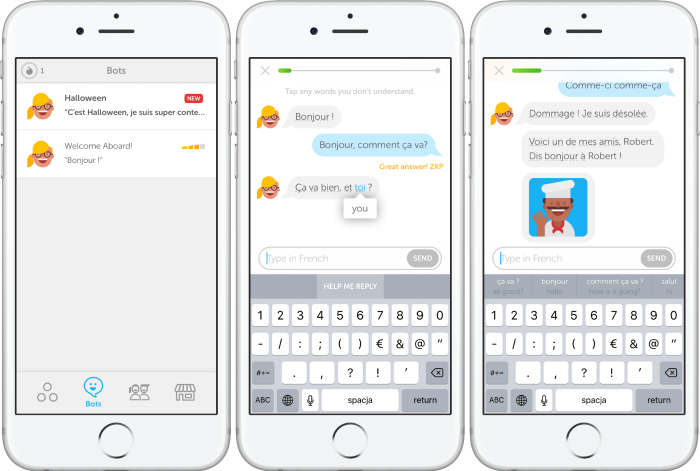 Though community moderators shouldn't worry about being replaced by chatbots anytime soon, brands should make note of the variety of different ways chatbots can enrich the user experience. By implementing tools that mimic conversational language, meet urgent needs, and suggest products to purchase, chatbots function as an extension of the brand's customer service experience. Developing and implementing a simple chatbot may be fine for some brands, but as users interface with more intelligent bots, they will come to expect more. Creating a digital strategy that incorporates specific needs rather than just standard replies will help brands create chatbot experiences that are meaningful to customers and leave positive impressions. If you need a digital strategy for chatbots to help your brand enhance its customer service, Social Factor has the experience and expertise you need!